Today's consumer is looking for satisfying breakfast sandwich options. 35% of c-store consumers purchase breakfast at least once a week.
When choosing products, variety is key to appealing to most consumers for this daypart. To take advantage of consumers already shopping for breakfast options consider these three items when selecting a breakfast sandwich lineup.
1. Carriers for Breakfast Sandwiches
Carrier type is a great way to add variety to the product lineup. Pancake and bagel carriers reach consumers looking for trendy breakfast items. A ciabatta roll or focaccia can replace a secondary stop at the local coffee shop for premium items. Some consumers like the added convenience of breakfast burritos, while others are still looking for traditional breakfast carrier favorites like biscuits, English muffins, and croissants to add comfort to their morning routine.
2. Protein for Breakfast Options
Variety in breakfast protein is another way to please customers. These customers are looking for quick grab-and-go options in the morning daypart. Carry items covering all the basic breakfast proteins such as eggs, bacon, ham, and sausage. Mixing in various cheese options can be a great way to add flavor and protein for consumers looking for protein-packed choices.
3. Flavor for Breakfast Offerings
On-trend spice and/or heat like salsa, jalapeno or pepper jack cheese can increase the flavor profile of a basic breakfast sandwich. Classic American or cheddar cheese flavors can cater to those consumers looking to zip up the basic indulgence.
Breakfast sales continue to grow year over year, and it is the most profitable daypart for c-stores, at 35%. The popularity of breakfast sandwiches continues to rise, especially in healthy tastes. Aligning a product assortment to provide different price points to meet the demands of most customers will provide maximum profits. Offering both value and premium breakfast sandwich options expands the number of customers you can reach. Keep in mind offering variety for the customer base is the best way to give people what they want when it comes to breakfast grab-and-go items.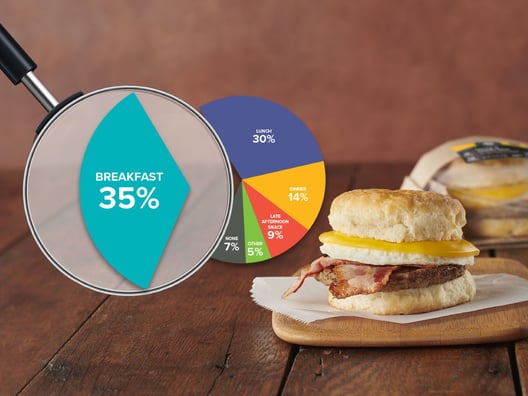 Resources: 
Technomic Inc, 2018 and CSP-FARE State of Foodservice study